We have two Cub Packs
Heron meet on a Wednesday evening (18.45 – 20.15 during term time) at the Barn, Purley on Thames.
Kingfisher meet on a Thursday evening (18.30 – 20.00 during term time) at Pangbourne School.
For more information email [email protected]
General Information
The Cub Scout Promise
I promise that I will do my best To do my duty to God and to the Queen To help other people And to keep the Cub Scout Law. The Cub Scout Law: Cub Scouts always do their best Think of others before themselves And do a good turn every day.
The Cub Scout Motto:
Be Prepared
Uniform
Cubs wear a dark green sweatshirt with a Group scarf (often called a necker) and a woggle in the colour of their Six.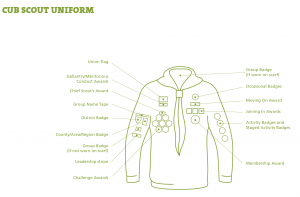 Link to Cub Scout Badges and Awards http://members.scouts.org.uk/supportresources/search/?cat=12,67
Awards
Chief Scout's Silver Award is the highest Award a Cub Scout can earn http://members.scouts.org.uk/supportresources/4340/chief-scouts-silver-award/?cat=12,67,778&moduleID=10