Scouts
We now have two Scout Troops.
One meets on a Monday evening (19.30 – 21.00 during term times), at the Barn, Purley On Thames.
The other on Friday evenings (19.30 – 21.00 during term time) at Adventure Dolphin, Pangbourne.
For more information about either Troop, email [email protected]
https://members.scouts.org.uk/supportresources/search/?cat=7
General Information
The Scout Promise
On my honour, I promise that I will do my best
To do my duty to God and to the Queen,
To help other people
And to keep the Scout Law
The Scout Law
A Scout is to be trusted.
2.    A Scout is loyal.
3.    A Scout is friendly and considerate.
4.    A Scout belongs to the worldwide family of Scouts.
5.    A Scout has courage in all difficulties.
6.    A Scout makes good use of time and is careful of possessions and property.
7.    A Scout has self-respect and respect for others.
The Scout Motto
Be Prepared
Uniform
Scouts wear a teal green shirt or blouse, navy blue activity trousers or skirt, a group scarf with a woggle, and a Scout belt.
Link to Scout page on Scout.org.uk site
http://members.scouts.org.uk/supportresources/search/?cat=7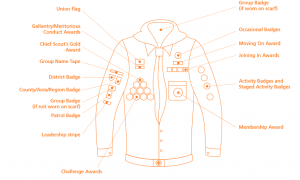 Link to Scout Badges and Awards
http://members.scouts.org.uk/supportresources/search/?cat=7,64
Chief Scout's Gold Award is the highest Award a Scout can earn
http://members.scouts.org.uk/supportresources/4409/chief-scouts-gold-award/?cat=7,64,781&moduleID=10